1996 Saturn SL2 DOHC
Air Conditioner, Cruse control, Leather Seats, ABS, Traction Control, CD, Equalizer, fold down rear seats, remote trunk release, automatic transmission w/performance switch, adjustable wipers, Power steering, moon roof, windows, & door locks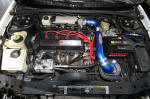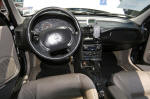 Mods & improvements so far...
Alarm with Self-Starter
New valve gaskets
MSD 8.5mm ignition wires
Champion Double Platinum Plugs
AEM Cold air intake
Monroe Struts

Audio System
(104 Watts per channel at 4 ohms, 250 Watt independent sub)
Panasonic CQ-C7103U WMA, MP3, CD Player, Receiver, Motorized Display Panel
Harman Kardon Drive+Play iPod interface (hardwired)
520Watt JBL GTO II Amplifier
250 Watt Infinity Basslink II Subwoofer
JBL Grand Touring 636 3-way rear deck loud speakers
JBL Power Series P652 2-way door loud speakers
1000 WATT Monster Power Cables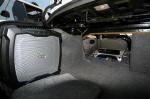 Exhaust System
OBX header
Catco High Flow Catalytic Converter
Dynomax Straight thru Muffler with chrome tip
28" Thrush Glasspack Resonator
2 1/2 inch exhaust pipes
Replacing the stock intake with an AEM
I removed the old stock intake with an AEM Cold Air Intake, which I picked up second hand on EBay. Unfortunately, because I have an automatic transmission, the cold air intake would not go all the way into the wheel well. I tried it with just the short pipe however; I was not pleased with the hood covering part of the filter so, I hack-sawed the second pipe and got the filter below the battery.
Removing the valve cover and changing the gaskets
I had oil leaking into one of the spark plug wires and two small leaks around the outside edge so, off came the valve cover, in went new gaskets, I cleaned all the edges, and replaced.