This page will feature "how to's", TAB, lessons, and tips & tricks for customizing your favorite ax, along with my own custom guitar collection.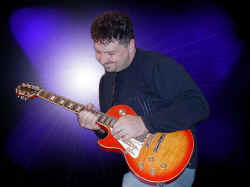 For know, enjoy and click on any of the pictures to see a larger image...

This is a 1987 Kramer Pacer Imperial, with Flip/Flop blue/purple factory paint, that I'm striping up with Shade Shifter stripes for Jasmine... as the angles change, so too do the colors...
Below is Jasmine's Pacer Imperial in front of my lefty 1986 Focus 1000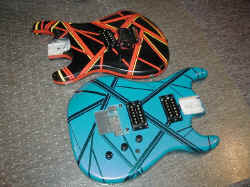 Below is my left handed Focus 1000 along with my newest project, a rather rare lefty 1983 Kramer Flying V... not only is it an original lefty... check out the head stock, it says "Kramer Vanguard Series Patent Pending"... Not too many of these floatin' around!!!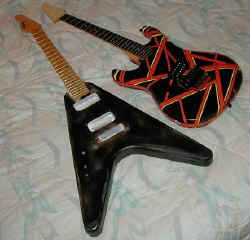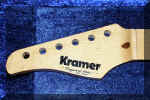 Here's Jasmine's Pacer (pre-stripes) and my Lefty 1988 Kramer Baretta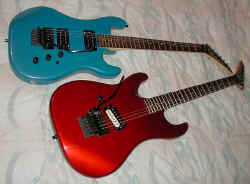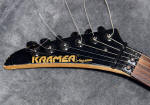 Ahhhh, I hated to have had to let this one go but.... here's my 2001 Kramer Baretta... just before I sold it on Ebay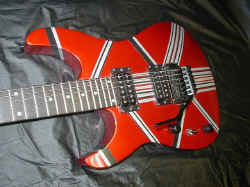 I'll have better shots of the one's below shortly... but for now... from left to right, here is my 1998 Les Paul Standard, 1980 Guild S-70, 1996 G&L Legacy, and 2001 Kramer Baretta (before the stripes were completed)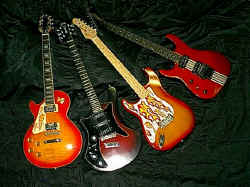 This site features the Art, Music, Photography, Poetry and Writings of Anthony Congiano a, new, artist, artist, poet, photographer, writer, musician, guitarist, new music, original music, music, new art, artwork, black and white, pen and ink, pen & ink, pencil, pastels, charcoal, artwork, featuring poetry, avante garde, diversity, love, amore, humorous, dark, new poetry, new poet, poet, avante garde poetry, diversity poetry, love poems, amore poetry, humorous poetry, dark poetry, Photography, photographer, digital photography, Cokin, Tiffen, filters, zoom lens, lenses, camera, Minolta Dimage 5, Casio 3000, exotic animals, domestic animals, September 11th tragedy, photo, photos, memorial, landscapes, cityscapes, new York city, long island